PLAYER REGISTRATION 2023/2024
---
---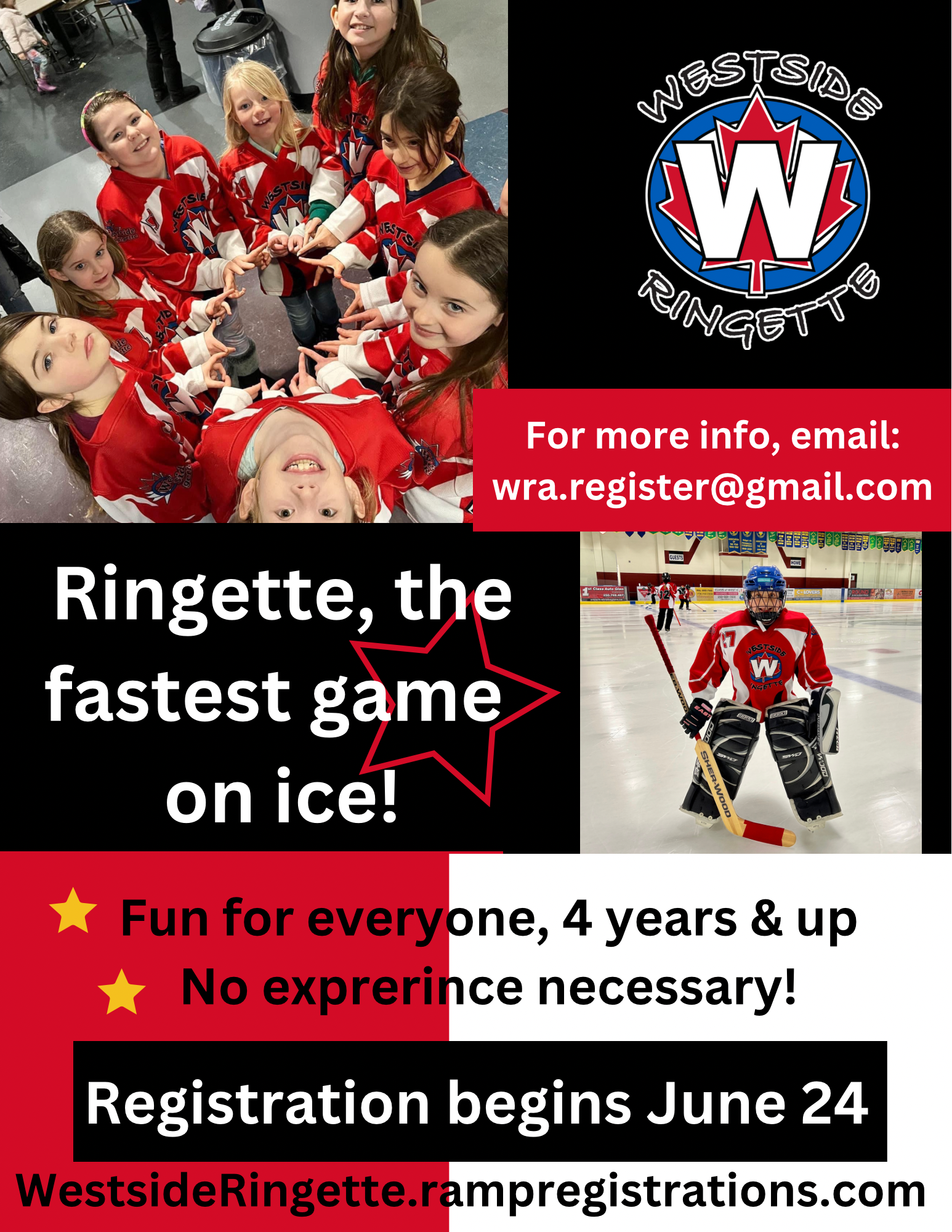 ---
WELCOME TO THE WESTSIDE RINGETTE ASSOCIATION (WRA) REGISTRATION INFO FOR THE 2023/2024 SEASON!
Registration Fees
Registration includes ice time, insurance, Ringette BC fees, TORL league fees and referee costs. If you need assistance or need to apply for a payment plan, please reach out to the registrar, Katrina Ainslie at kmainslie1@hotmail.com.
Please review the Volunteer Policy on the Registration page as it will again apply to the 2023/2024 season.
Any U14, U16 or U19 players who are planning to try-out with the intention of making a Zone team will be required to pay a $25 fee at the time of registration. This will secure players a space in the try-outs and will be paid by Westside Ringette to TORL to cover the try-out fees. To secure your space in the Zone try-outs for your player, please make sure to click box titled Try-Out for Zone Team (U14, U16, U19) that is below the player fees. If you need more information on the Zone program, please see the TORL website at http://torl.ca/index.php
Division and Age
New Player Fees
Regular Returning Player Fees
U9 (FUNDAMENTALS)
born 2016, 2017, 2018 & 2019
$225
$325
U10
born 2014 & 2015
$575
$575
U12
born 2012 & 2013
$575
$575
U14
born 2010 & 2011
$575
$575
U16
born 2008 & 2009
$575
$575
U19
born 2005 - 2007
$575
$575
OPEN 18+
born 2003 or earlier
$575
$575
Full-Time Goalie
$375
$375
* New players are players playing in their first season of Ringette with Westside Ringette. New players are not eligible for Discount codes.
***Zone try-out fees are to be purchased at time of registration for any U14, U16 or U19 players who will be participating in the Zone Try-outs.
Payments and signed waiver forms must be received before a player is permitted on the ice. Waivers are now attached to the registration form so please ensure that they are complete.
Payment Plan
Westside Ringette offers a 4-payment installment plan to help make the costs of registration more affordable. The plan is on approval and requires the first installment up front, plus three post-dated cheques dated the last Friday of Aug., Sept. and Oct.. Please contact the Registrar for enquiries and to be approved under the installment plan.
If you sign up after the due date of any of the installments, those installment amounts will be added into your initial payment.
Financial Assistance
Some families may be eligible to have all or some of their registration fees covered through JumpStart funding or other programs. For further information please see the Canadian Tire Jumpstart website or contact the Registrar for additional information.
Practice Times
Ice-times are extremely limited as we compete with minor hockey, the Warriors, figure-skating programs and other recreational users of Jim Lind Arena and Royal Lepage Place. It's almost impossible to predict how many teams in each division will need ice until teams are formed in September, therefore we are unable to tell you when practice times will be scheduled until teams are formed. Times/days of the week are also subject to change as the season progresses.
We are requesting ice-times from the City of West Kelowna similar to what we have previously received. In recent years, we have had evening ice times on Mondays, Wednesdays, Thursdays, and Fridays. We will also be utilizing the ice at Ultimate Hockey this season on Saturday afternoon and evenings with the intention of having the FUN program utilize the smaller ice surface. Some teams may have additional practices as determined by the coaching staff.
Practice times will be posted on our website as soon as they are scheduled. Go to www.westsideringette.ca and click on a team to view its calendar .
Cancellation Policy
WE CANCEL PLAY - a minimum of $100 is non-refundable with the remainder being prorated to reflect the portion of the season that has passed.

PLAYER CANCELS REGISTRATION - an administration fee of $50.00 shall be charged to each registrant that withdraws from WRA prior to their divisions first ice time.
For each registrant that withdraws after the start of the season, a fee of $100.00 will be charged.
Once teams have been formed, there will be a charge of $150 if the registrant withdraws before November 1st of the current year.
There will be NO refunds after November 1st of the current year.
More Questions ?
Please contact the Registrar if you have any questions.
http://westsideringette.rampregistrations.com
Please click the link below to register for the upcoming season! We look forward to seeing you on the ice soon!
Thank you,
Westside Ringette